Sarojini lives with her parents, Annadura and Kidha, in Nagapattinam, Tamil Nadu, India. Her father, Annadura, worked as a construction laborer for many years, providing the family's only livelihood. Her mother, Kidha, is a homemaker. The family lives in desperate poverty.
A few years ago, Annadura left for work one day, just as he had many times before, but he did not return home.  When he wasn't home late into the evening, Sarojini and her mother became worried. One of their neighbors came and found them, delivering the bad news, that Sarojini's father was injured when he fell from the third story of a building while working. The news devastated them, and they went running to the hospital where he was lying on the bed with severe injuries. As if the injury wasn't bad enough, doctors told Sarojini that her father would never be able to work again.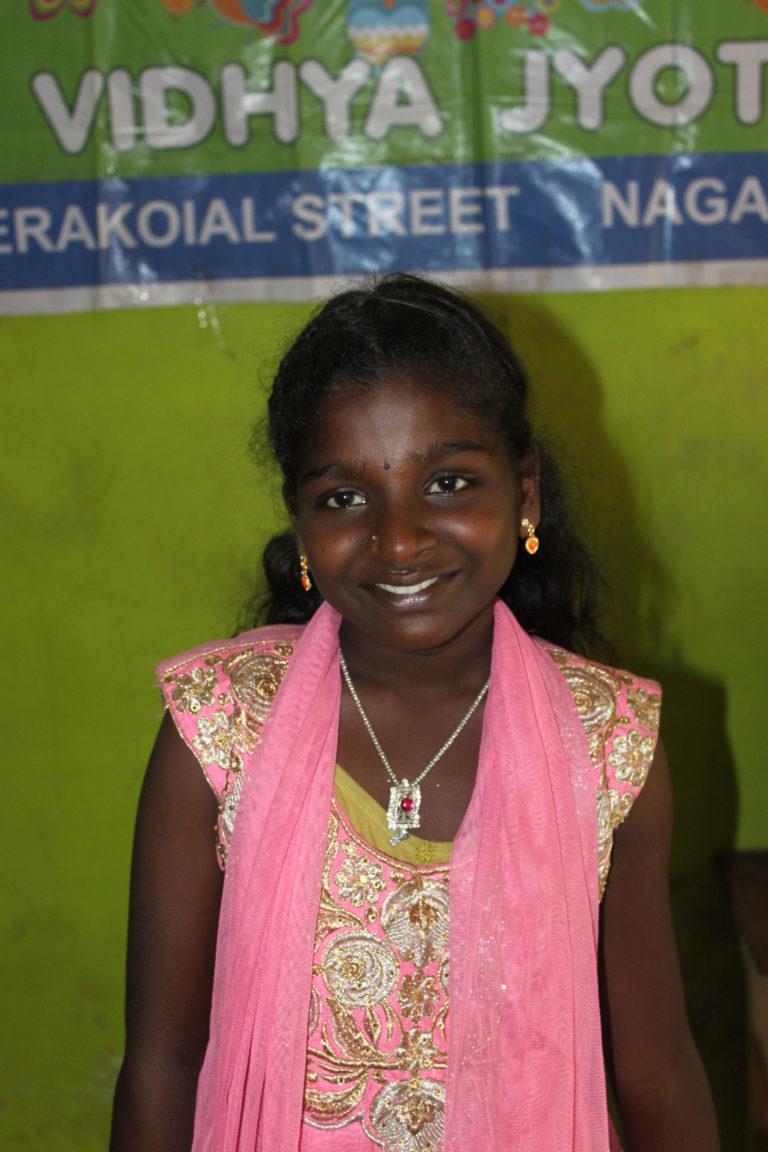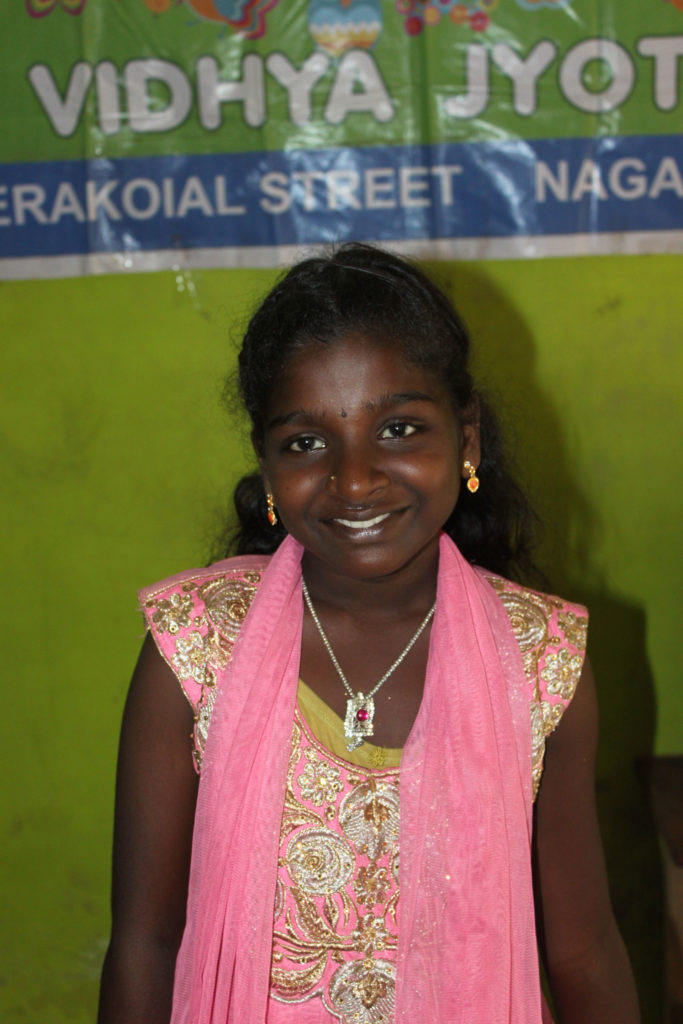 Without her father's income, Sarojini's mother took on the responsibility of providing financially for her family; Thankfully, she was able to get a job in a small hotel as a cleaner. Though it was difficult and the income was less than they were used to making, they were able to budget enough to live on what she earned. They suddenly had to agonize over every small expenditure, deciding whether or not to spend even the smallest amount of money. It was not fun, but poverty never is. With the school year approaching, Kidha became even more stressed as she considered the cost of school supplies for Sarojini. The finances were hardly enough for their daily needs, much the less school supplies! Kidha knew her daughter should be in school, so she began to pray.
God answered those prayers in the form of Orphan's Promise and the Vidya Jyothi (VJ) project, an outreach which helps children who live in poverty in India's poorest slum communities receive an education. When Kidha found out about the project and how it helps needy children, she rushed to the to the closest VJ center and explained the situation she was in. She told the director how difficult it had become for her to provide the necessary school supplies for her daughter, Sarojini.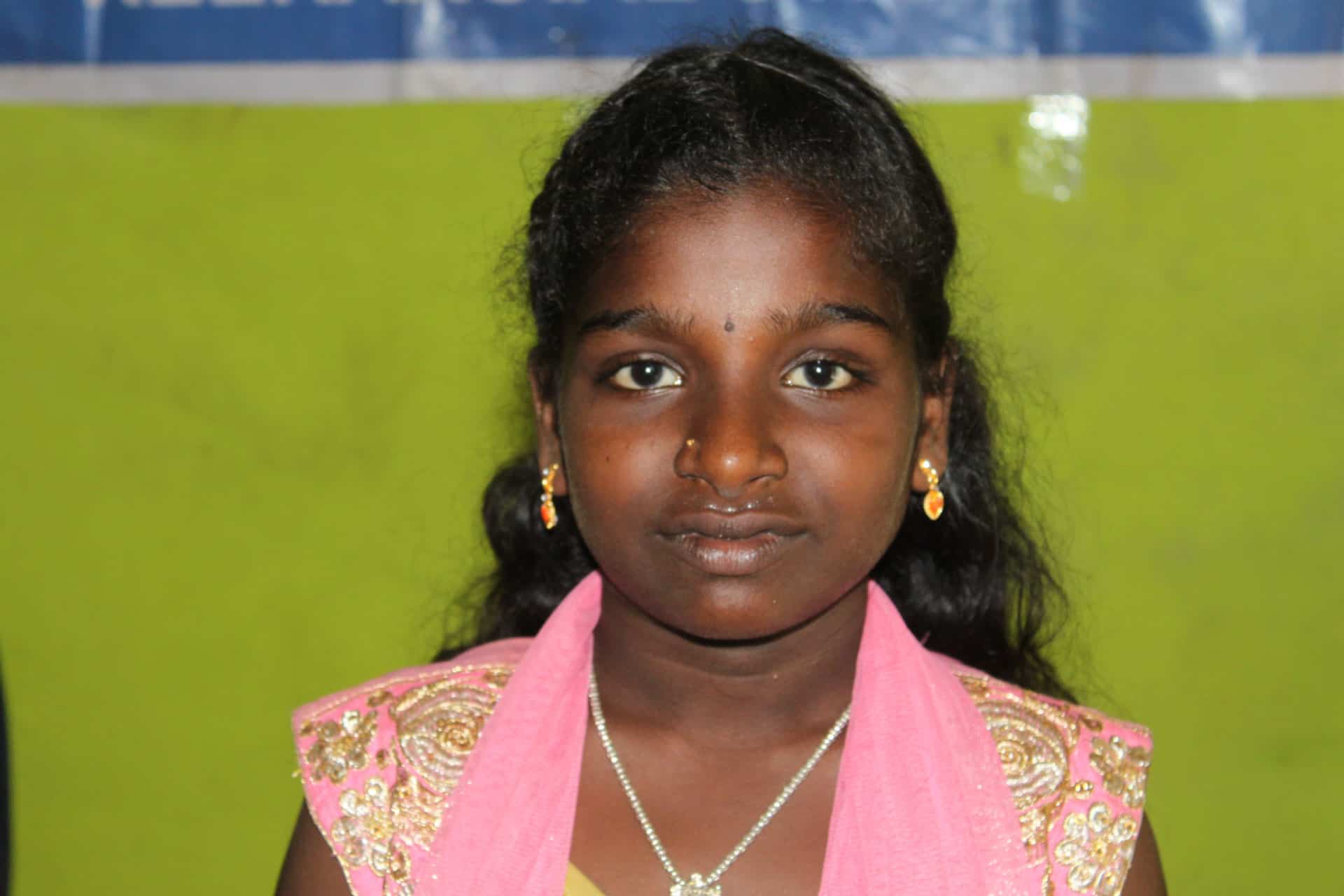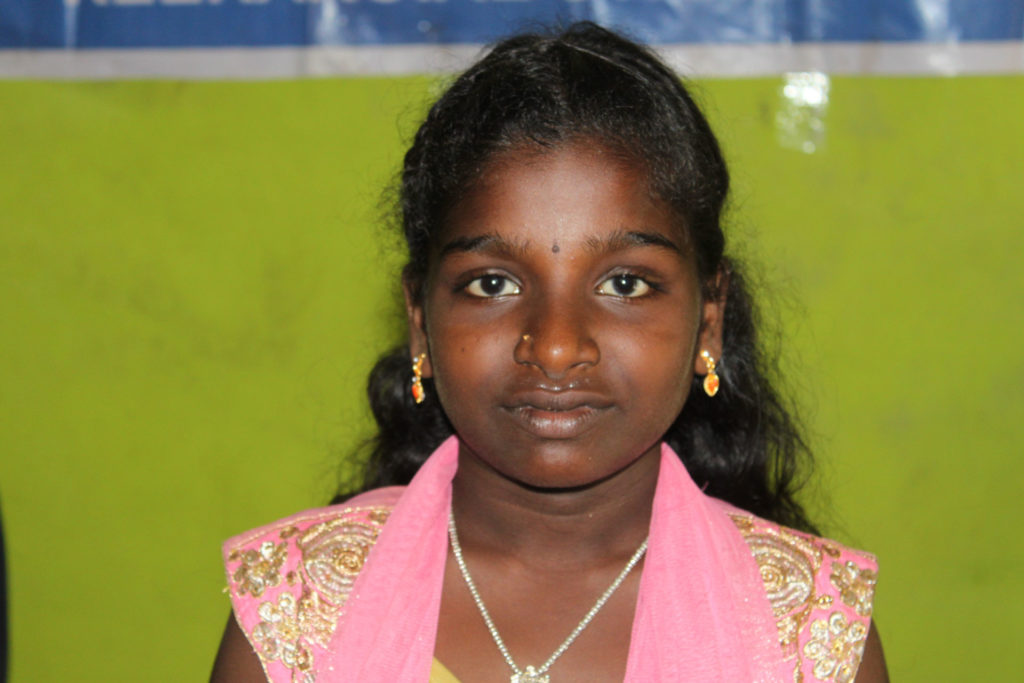 Personally seeing her situation and considering her plea to help Sarojini, the Director enrolled her at the center. Today, Sarojini's parents never have to worry about her not being able to attend school because of their financial hardships.  Her educational needs are taken care by OP, which has been a big blessing to the family. Through Orphan's Promise, Sarojini not only receives educational support but also this center is a place where children are taught good morals and values and mentored to lead a better life.
"It is so relieving and happy to see my daughter Sarojini with the entire school supplies, words are not enough to thank you, Orphan's Promise", said Kidha, Sarojini's mother. She added, "even my husband extends his gratitude to OP".
When you give to support the work of Orphan's Promise, you give kids like Sarojini an opportunity to grow up in a world where her dreams are within reach. Become an Orphan's Promise partner today and let's make a difference together.